Long Range Ultrasonic Testing:

For Pipeline Inspection;

Inspection through insulation opens unexpected opportunities:

LRUT is primarily a screening tool. The aim of the inspection is to test long lengths of pipe rapidly from a single test point with 100% coverage of the pipe wall and to identify areas of corrosion or erosion for further evaluation using other NDT techniques such as radiography or conventional ultrasonic. The technique is equally sensitive to metal loss on both the outside and inside surfaces of the pipe. The system is entirely computer controlled, data acquisition and display/analysis being performed using a personal computer.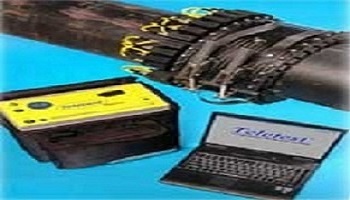 Long-Range ultrasonic Non Destructive Testing Technology was developed for detecting corrosion and metal loss in pipe work. Its initial application was for detecting corrosion under insulation in petrochemical plant pipe-work, but has found widespread use in other inspection situations where pipes or tubes are not accessible, for example where they are buried, encased in a sleeve or elevated above the ground.

Advantages:
Low cost screening with 100% coverage

Focusing capability to evaluate corrosion distribution around pipe circumference

Test range under ideal conditions can achieve 300m or more

Testing of pipes from 1.5" up to 48" diameter

Reliable and accurate detection

Ideal where conventional testing is impossible or very costly e.g. clamped, insulated, elevated, sleeved or buried pipes

Operating Temperature -5⁰C to 100⁰C
Inspection on insulated pipes without taking of the insulation (only where equipment will be fixed).



Equipment:


The equipment has the added feature of focusing the sound energy into a specific region of the pipe to measure the distribution of the corrosion around the circumference at a specific distance.
This is especially valuable for inaccessible pipe work allowing the end-user to make a more informed decision about the need for further action.

Process:
Low frequency ultrasound is transmitted and received from a single location

The guided waves travel long distances, even in submerged or insulated pipes

Response from flaws is a function of their depth and circumferential extent

Focusing allows ultrasound energy to be concentrated into a small region of pipe for Detailed localized inspection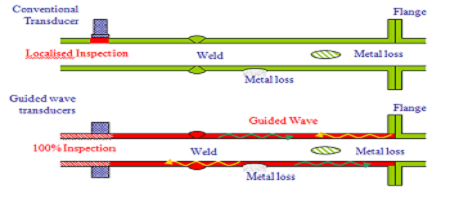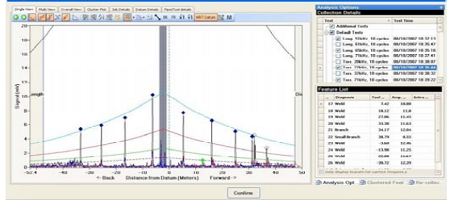 Applications:
Pipe types:
Seamless

Longitudinally and spiral welded
Pipe materials:
Ferritic, stainless steel and any other material
Pipe situations:
Buried

Air-to soil interface

Air-to water interface

Elevated on racks

Sleeved in road crossings

Wall, bund or berm penetrations
Flaws found:
External corrosion

Corrosion under insulation (CUI)

Internal corrosion or erosion

Environmental cracking
Pipe coatings:
Foam or mineral wool

PVC, epoxy, coal tar epoxy

Paint

Bitumastic wrapping
Pipe duties:
Transmission and distribution lines

Refinery and chemical plants

Offshore risers

Jetty lines

Tank farm link lines

Power plant service pipes

Storage sphere support legs