Tubular Inspection:
Effective maintenance of drill pipe and associated hardware ensures the continued and safe operation of drilling/Workover rigs. An appropriate tubular inspection program helps identify integrity issues before they reach criticality, preventing costly repairs and / or damage to personnel and the environment.
ATIC offers a comprehensive tubular inspection service, covering all new and used items, including; Drill pipe, tubing, casing, sucker rods, coiled tubing, drill collars,
bottom hole assembly, cross over subs, reamers etc…
A typical inspection program would involve one or more of the following:
· Visual inspection of body & threads.
· UT wall thickness measurements & dimensional inspection.
· MPI to identify cracks & other defects.
· Hardness testing.
· Internal inspection of upsets – MPI.
· Tool joint inspections – VT & dimensional.
· Drifting assessment.
All inspections are carried out in accordance with client requirements
and per the specified standard (API, DS1 etc).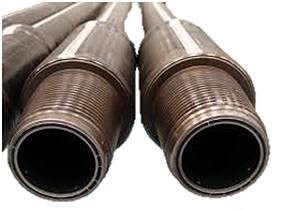 Edit Page